All of us are used to having breakfast in a certain way that helps us start the day in a great way. Having breakfast is a ritual that we can not give up. Each one of us classifies his breakfast based on what he wants most. Who takes only coffee, those who love cappuccino, who does not give up to sweet in the morning and who wants a savory breakfast, not respecting Italian style, but their own taste.
Cappuccino and croissant at home?
A breakfast with cappuccino or coffee with croissant, as if we were at the bar, but that is delivered to us directly in our holiday home is it an absurd idea? No, absolutely, a reality that you can easily take advantage of by booking one of our apartments in Florence. Of course there are those who want privacy and love the classic espresso coffee that can be done alone in your apartment without giving up the intimacy. All available with a holiday home in Florence where there is a kitchen or a kitchenette. A simple, sweet and ideal way to start your own itinerary as a tourist. Obviously, being able to take advantage of a beautiful holiday home complete with kitchen and appliances, you have the opportunity to buy the necessary for your breakfast, perhaps even opting for organic or vegan food, to be purchased in supermarkets near the house.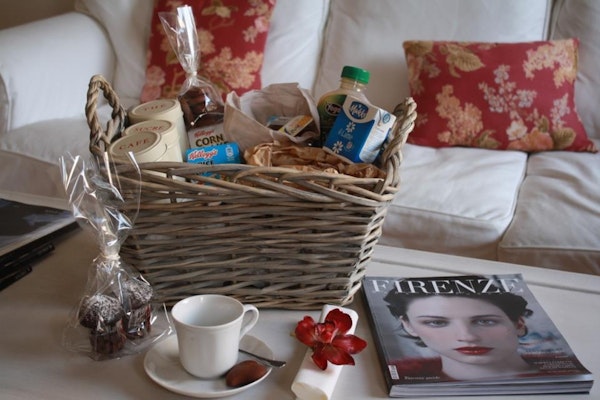 Sweets and coffee shops in Florence
Finding ourselves in a historic city like Florence we do not miss the opportunity to taste typical sweets, alternative cuisine and methods of dough that are characteristic and traditional. Among the confectioners who can offer good sweets for their breakfast there is the pastry Nencioni in Santa Croce district with its puff pastry of very high quality, crumbly, right sweetness and with typically Florentine pastry secrets.
Gilli Caffè, very close to Duomo offers traditional Italian desserts with excellent coffee blends that should not be missed when we find ourselves in Florence. Forget eating a sweet here is like not going to visit the Donatello.
If we are lovers of American breakfast style and we have also adopted it in our lifestyle at home, we don't have to give up when we are on vacation. Not all cities offer American quality and tradition, but Florence does. The American pastry Mama's Bakery in Santo Spirito has a wide selection of Americans "native" sweets, if we can say so, not adapted to Italian cuisine and, in this way, we find ourselves in Florence, but in American style. An experience not to be underestimated and that could be the sweetest moment of your tourist visit.
Are we traditionalists and do we want to have a Florentine breakfast? The pastry shop Sieni in San Lorenzo offers delicious crushed sweet grapes and other typical products that will make us feel the taste history of Florence so, how can we give up? You simply can not.
Breakfast can also be salty and, as we said, Florence offers everything and also satisfies tourists who are used to having "alternative" breakfast. Il Fornaio, central shop of sweets and not only near Piazza Signoria, can satisfy with savory desserts that are real Florentine goodies, exquisite traditions for daring palates.